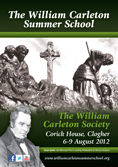 FÁILTE! Welcome to the 21st William Carleton
summer school. If it's your first visit to the scenic Clogher Valley, I hope you enjoy the proceedings  and will want to return for more. Those who have attended previously will notice a few changes. We have listened to your comments and are now putting some of them into practice. The most important difference is that the summer school committee has been reorganised into what is once again the William Carleton Society. Originally founded in 1962, it provided the blue plaque for Carleton's cottage at Springtown and ran successfully until 1972. The first Chair was Master Murray (Éamonn Ó Muirí) a national school principal from Tydavnet. Our tour there last August re-established the Carleton link with County Monaghan. It included the site of the hedge school attended by a young Carleton at Glennan chapel, where Seamus McCluskey delighted the tour group with his stories.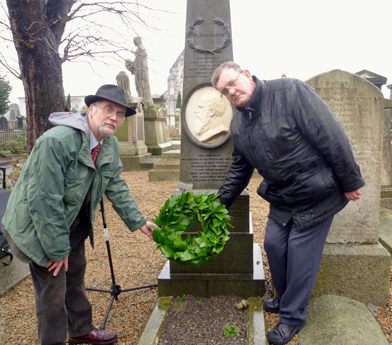 JOIN THE WILLIAM CARLETON SOCIETY If you would like to continue to receive information about our activities hybridge canada goose down skirt https://www.canadagoose-jackets-online.com canada goose authentic parkas, please contact any committee member. The membership fee to cover the costs of administration will be £5 or €6. The Society hopes to run a series of events over the next twelve months, culminating in the summer school on August 5th-8th 2013. Among the activities we organised earlier this year was a visit to Dublin. We were welcomed at Sandford Church of Ireland parish church in Ranelagh, which Carleton attended in his last years. We also visited Carleton's grave at Mount Jerome cemetery in Dublin, where a wreath was laid and the Society President Jack Johnston addressed the gathering. We hope to repeat this trip in January.
Michael Fisher Chair, William Carleton Society
CONTRIBUTORS 2012  21st William Carleton Summer School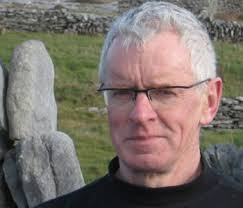 Cormac Ó Gráda is a professor in UCD's School of Economics. Most of his research has been on the economic history of Ireland and further afield. He is the author or co-author of many books and scholarly articles. His books include Famine: A Short History (Princeton, 2009); Jewish Ireland in the Age of Joyce: A Socioeconomic History (Princeton, 2006); Ireland's Great Famine: Interdisciplinary Perspectives (Dublin, 2006); Black 47 and Beyond: The Great Irish Famine in History, Economy and Memory (Princeton, 1999); Ireland: A New Economic History (Oxford, 1994); and An Drochshaol: Béaloideas agus Amhráin (Dublin, 1994). He was awarded the Royal Irish Academy's Gold Medal for the Humanities in 2010. Cormac's work involves a lot of travel, and has brought him to places as far afield as Australia and (frequently) North America, but he lives with his family in Dublin 14. Much of his current research is collaborative, and focuses on topics such as the interaction between economic and demographic change in pre-industrial England and the Little Ice Age. In his spare time he likes to take to the hills. He is a keen follower of championship hurling and Dublin football.
Melissa Fegan   is a Reader in English at the University of Chester. Born in Lisburn, she spent her childhood in Shannon, Co. Clare before moving back to Lisburn in her early teens. She did her BA and DPhil at St Hugh's College, Oxford; her DPhil thesis was on representations of the Great Famine in literature, and was supervised by Roy Foster. Dr Fegan teaches nineteenth century literature and Irish literature, and is programme leader of the MA in Nineteenth-Century Literature and Culture. She has written extensively about the famine period. Her publications include Literature and the Irish Famine 1845-1919 (Oxford University Press, 2002) and 'William Carleton and the Great Famine' in Peter Gray (ed.), Victoria's Ireland? Ireland and Britishness, 1837-1901 (Four Courts Press, 2004).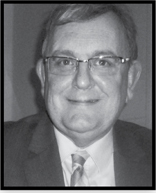 Michael Fisher is Chair of the William Carleton Society and this is his first summer  school as Director. A freelance journalist, he retired from RTÉ News in Belfast in September 2010, having joined the broadcaster in Dublin in 1979. He is a former BBC News Trainee in London and worked in Birmingham as a local radio reporter. A native of Dublin, Michael has family connections with the Clogher Valley as well as Co.Monaghan. He is a graduate of UCD and QUB and is a previous contributor to the summer school.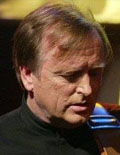 Barry Devlin is originally from Ardboe in County Tyrone. He is the third member of his family to visit the William Carleton Summer School, in the footsteps of his sisters Polly (who addressed the first school in 1992) and Marie, wife of Seamus Heaney. He is best known as a musician for his part in the legendary Irish rock band Horslips, who have recently enjoyed renewed fame.