Clogher
Carleton's stories and novels, although written in Dublin, are mostly located in the Clogher Valley, a fertile area of County Tyrone, lying between the beautiful chain of hills to the north and the massive Slieve Beagh feature to the south. Through it runs the main road from Belfast to the West. Within easy reach are the towns of Dungannon, Omagh, Monaghan and Enniskillen, none of them more than twenty miles from the village of Clogher at the heart of the Valley.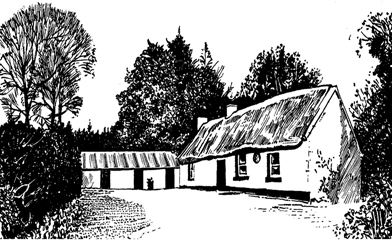 As Carleton remarked, Clogher can claim city status as here is situated the Anglican cathedral of the Diocese of Clogher, a small but elegant building in the classical style. Nearby is the former palace of the bishops of Clogher, also a classical building. These features were noted by Carleton in a depiction that is not entirely enthusiastic as he tells us:
'[Clogher] is only half a town, having but one row of streets, and contains not more I think than from two hundred and fifty to three hundred inhabitants. Small and insignificant-looking, however, as it seems, it is the ecclesiastical metropolis of the diocese to which it gives its name. Before the Union it returned a member to the Irish Parliament...It is, or rather was the residence of the Bishops of Clogher, and the palace, which they occupied for about a month or six weeks every year, is a very fine building...The name of Clogher is, I believe, of Druidical origin - the word Clogh - oir, signifying a 'golden stone'.
Carleton: The Autobiography
Carleton's etymology actually owes more to folklore than reality for, although a pillar stone preserved at the Cathedral is said locally to be the famed golden stone, the name derives merely from clochar (stony place.) The varying interpretations, however, indicate the wealth of antiquities and folklore in the district. A variety of earthworks include the hill fort within which the cathedral and its predecessors were built and the many military and ecclesiastical features have been well documented. Myth and scientific archaeology also offer their respective interpretations of the elaborate markings on the stones of the passage grave on the summit of the hill of Knockmany overlooking the Clogher Valley. Knockmany has frequent affectionate mention in Carleton's work and the wooded path to the summit is a walk to be recommended to all visitors to the area.