School
The annual William Carleton Summer School, one of Ireland's most significant literary festivals, has since 1992 celebrated the life and writings of the novelist William Carleton, 1794-1869. The School is held from the first Monday in August until the Friday of the same week in Carleton's own district, the Clogher Valley in Co Tyrone. In addition to the main programme of lectures and debates, the School offers bus tours of places that have Carleton associations, in neighbouring counties. The tours are led by well known local historians and Carleton scholars, and evening entertainments include drama performances, traditional and classical music and storytelling.
The principal aims of the Summer School are:
To promote the life, times and writings of William Carleton:

Carleton moved through pre-Famine Ireland, wrote about famine in his novel The Black Prophet and saw the establishment of National Schools in English, Catholic emancipation, railways and revolutionary activity. He knew such leading Irish literary figures as Maria Edgeworth and Sir Samuel Ferguson, wrote for the Dublin University Magazine, admired Dickens and knew and revered Thackeray.


To present him as a writer of international significance:

That Carleton is much more than a purely local phenomenon and has been acclaimed by such major Irish writers as W.B. Yeats, Patrick Kavanagh, Seamus Heaney, John Montague John McGahern and Eugene McCabe. An increasing body of critical appreciation includes recent significant articles from Brian Donnelly, Declan Kiberd and Roy Foster, a major study has been produced recently by the American critic David Krause.

To foster critical examination of Carleton's work:

Over the ten years of the Summer School a most impressive range of scholars from Ireland, Britain America and elsewhere have examined Carleton and his works from a variety of critical perspectives. Speakers have included Thomas Flanagan, Eileen Sullivan, Terence Brown, Antoinette Quinn, lvan Herbison, Eamonn Hughes, Roy Foster, A. Norman Jeffares, Declan Kiberd, Barry Sloan, Norman Vance, John Kelly, Michael and Edna Longley, John Wilson Foster, John A. Murphy, Gerald Dawe, Peter Denman, Robert Welch, Brian Walker, Dairmaid Ferriter and Maurice Harmon. The Summer School's Honorary Director is the historian, writer and broadcaster, Owen Dudley Edwards.


To publish research papers on topics relating to Carleton and to develop a Society archive, library and collection:

Carleton's Autobiography was re-issued through the efforts of the Summer School Committee in 1996. William Carleton, The Authentic Voice; researched and written by Summer School members, edited and produced by Gordon Brand and Sam Craig was published in 2006 by Colin Smythe, Gerrard's Cross. The 455 page volume is a work of reference for William Carleton, containing transcripts of selected lectures given at the Summer School between 1992 and 2005, contemporary portraits of Carleton, previously unpublished Carleton letters and documents, a chronology and publication history of his writings, well illustrated and containing pen drawings by Sam Craig and detailed 19th century maps of the countryside Carleton loved and wrote about.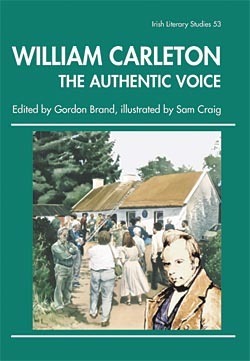 Twenty One William
Carleton Summer Schools
Contributors to the first William Carleton Summer School in 1992 were Sam Burnside, John Campbell, Polly Devlin, Owen Dudley Edwards, Len Graham, Jack Johnston, Benedict Kiely, Seamus MacAnnaidh, John Montague, Frank Ormsby, Eileen Sullivan and Padraigin ni Uallachain. Musicians, storytellers, poets, historians, novelists, antiquarians; they were all represented, and in English and in Irish. The intention from the very beginning was to be cross-community and cross-cultural.
Robin Marsh, Director, Pat John Rafferty, Secretary, and Breda Heaney, Treasurer, guided the William Carleton Summer School superbly during most of its existence and we should remember them now. Jack Johnston, who had been the first Chairman and supported Robin as his deputy, stepped up after Robin's untimely death and over the last two years has steered the ship with diplomacy and skill. From the very beginning of the Summer School Jack has organized the very enjoyable field trips and bus tours in the Clogher Valley and further afield. All of the Committee members have contributed to the Summer School's successes over the years; nevertheless, it would be wrong not to highlight the huge contribution of Sam Craig. Without Sam's artwork and technical skills the event would have been greatly impoverished, and the Committee would not have been able to produce William Carleton: the Authentic Voice. Our Honorary Director, Owen Dudley Edwards, always provides help, advice and new contacts to ensure that the programmes are imaginative.
Inspired by the Carleton Society of the 1970's, Dungannon District Council instigated the William Carleton Summer School. Their financial support and genuine interest in the event remains crucial, and they often say that they see the William Carleton Summer School as one of the most prestigious and successful enterprises in County Tyrone. Councillor Jim Cavanagh has been our link with them from the start.
All of this is predicated on a penniless peasant who two hundred years ago left the Clogher Valley in pre-famine Ireland and walked to Dublin where he discovered that he had the ability to write stories which revealed his society to a new and avid readership in Ireland and England and further afield. Carleton's influence and legacy cannot be over-stated. As senior Committee member Arthur Quinn reminds us, William Carleton almost single-handedly resurrected the Dublin publishing industry, and he most certainly had an influence on our great writers, from W. B. Yeats to Seamus Heaney.

Gordon Brand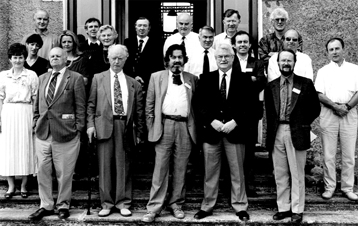 Some of the visitors, patrons and original committee members who attended the first summer school at Corick in 1992. Names, reading from left to right: Nuala Morris, Tess Hurson, Ian Frazer, Tom Flanagan, Polly Devlin, Pat McDonnell, Jean Maclagan, Benedict Kiely, Stephen McKenna, Owen Dudley Edwards, Michael McLoughlin, Arthur Quinn, Ken Maginnis, Jim Cavanagh, Seamas Mac Annaidh, Anthony McGonnell, Jack Johnston, Sean Skeffington, Pat John Rafferty.