Venue
The William Carleton Summer School is held at Corick House, a seventeenth century country house, mentioned in Carleton's writings and now a hotel situated in scenic parkland.

Corick House Hotel is excellently appointed, providing accommodation, including nearby guest house accommodation, for summer school week. Situated just north of the main Dungannon to Enniskillen road (the A4), between Augher and Clogher; it is well signposted.

At the time of the Plantation of Ulster the townland of Corick was part of the lands granted to the Bishop of Clogher. Corick or Corag, meaning a confluence of streams, lies mid-way between of the villages of Augher and Clogher where the Fury River joins the Tyrone Blackwater.

About 1697 Bishop St George Ashe settled John Story from Hexham in Northumberland on the property. Story sold his estate at Bingfield Hall and came to Ireland, apparently as the Bishop's Agent.

The Story family and their descendents were connected with Corick for about three hundred years, providing mainly bishops agents, clergymen and farmers. The parents of the novelist William Carelton were tenants at Nurchossy (early 19th Century) of John Benjamin Story (1764 - 1844). Carelton mentions him in Traits and Stories where he is described as one of the tallest and handsomest of the local squires.

The last member of the Story family sold the house and gardens at Corick to Mrs Jean Beacom and the surrounding farmland to the local farmers. The William Carleton Society gratefully acknowledges the contribution made to the successful running of the summer school by Jean Beacom, who passed away in 2011. It was her fondest desire to carry the traditions of this grand Irish house into the 21st Century. The hotel is now run by her daughter Avril Robson and her two brothers and is undergoing a £1.4 million expansion to provide additional accommodation and a spa.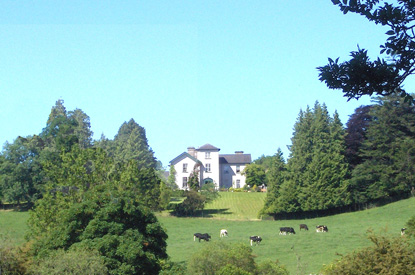 Address:
Corick House Hotel, Clogher, Co. Tyrone, N. Ireland
BT76 0BZ
Tel: +44 (0)28 8554 8216
Fax: +44 (0)28 8554 9531
Email: reservations@corickcountryhouse.com