Wednesday 7th August (Day Six)
Location: Corick House Hotel, Clogher

09:30am Registration tea/coffee
10:00am 'The Orange Order' Professor Jon Tonge
Discussion. 'Dealing with the past': Alex Kane and Dr Margaret O'Callaghan (QUB)
11:45am Break
12:00pm Former politician and commentator Mary O'Rourke on 'How differences can be accommodated'
1:00pm Lunch
2:30pm Poet Siobhan Campbell MA on 'writing about the past'
3:30pm Tea/coffee Break
3:45pm Patrick Scully extracts from 'one-man show, Lord Edward Carson Reflects'.


4:30pm Writer & author Mary Kenny 'Edward Carson: Dubliner, Unionist, Irishman'
6:00pm Close of Summer School
8.00pm Concert at Fivemiletown Wesleyan Hall Murley Silver Band and Monaghan Gospel Choir. Special Guest: Gloria Admission FREE
Jon Tonge
is Professor of Politics at the University of Liverpool and a former Chair and President of the Political Studies Association of the UK. He has produced 14 books and over 50 journal articles and chapters on Irish and British politics and has completed five Economic and Social Research Council and Leverhulme Trust funded projects over the last decade.
His most recent books are 'Loyal to the Core? Orangeism and Britishness in Northern Ireland' (Irish Academic Press, 2011), with James McAuley and Andrew Mycock and 'Abandoning the Past? Political Prisoners and Historical Conflict' (with Shirlow, McAuley and McGlynn), which was awarded the Political Studies Association prize for best book in politics in 2010. His collaborative work 'Inside the Democratic Unionist Party: From Protest to Power' Oxford University Press, Oxford, is due to be published in 2014.
Dr Margaret O'Callaghan
who comes from Dublin is a Senior Lecturer in Politics at Queen's University Belfast. She previously taught at the Universities of Cambridge and Notre Dame. She is the author of numerous works on the state apparatus in relation to nationalist and unionist political formations in Ireland from the late nineteenth century to partition. She has published on the Royal Irish Constabulary and its role in provincial Ireland in the nineteenth century; on partition; the Boundary Commission of 1925; the fringe-fenian press; the careers of Roger Casement and Tom Kettle; on Belfast in the 1960s and 70s; and on Ian Paisley; and the Royal Ulster Constabulary. She co-edited with Mary E. Daly '1916 in 1966; Commemorating the Easter Rising' (Royal Irish Academy, 2007). Her current research focuses on commemoration and propaganda wars in the Irish public sphere, and the politics of Irish literature.
Alex Kane
has been a participant in and observer of the political scene in Northern Ireland for over thirty years. He was based at the Northern Ireland Assembly between 1998 and 2010. For two-and-a-half years he was Director of Communications for the Ulster Unionist Party. He is now a writer, political commentator, consultant and regular columnist for the News Letter. He also contributes to a wide range of other media, including the BBC, UTV and RTE, and is regularly included in election specials.
Mary O'Rourke
comes from a notable political family in Athlone, County Westmeath and has been one of the most successful and influential women in Irish public life. She is a former Deputy Leader of Fianna Fáil and held a number of senior Cabinet positions in the Irish government. She was Leader of the Seanad, where she was also for a time party spokesperson on Northern Ireland. She was a member of Westmeath County Council from 1979-87. She is the sister of the late Brian Lenihan (Senior), Dáil Deputy and Minister. Their father PJ Lenihan was a TD from 1965-70. She was educated at UCD and St. Patrick's College, Maynooth (BA, HdipEd). Mary is a former secondary school teacher and has two sons. She is a frequent guest on radio and television current affairs programmes.
In 2011 she was appointed to the Board of Directors of Educate Together. In 2012, 'Just Mary: My Memoir' was published. It won the 2012 Irish Book Award in the 'Listeners' Choice' category. In it she writes of her family background and her early involvement in politics; of the many senior political figures to whom she was close; of her brother and nephew, Brian Lenihan (Junior), both of whom died before their time; and of her successes and disappointments. The book is like the woman herself: open, warm, and shrewd.

Siobhan Campbell
was born in Dublin, and is a graduate of UCD. She has lectured in the MA and MFA programmes at Kingston University, London. Widely published in the USA and UK, she is the recipient of a number of awards for her work. Her most recent poetry collection is 'Cross-Talk' (2009) which explored Ireland in the aftermath of the peace process.
In England she worked alongside the Military Writing Network to produce an anthology, 'Courage and Strength, Stories and Poems by Combat Stress Veterans' (2012), in an initiative which brought together several organisations and individuals who sought to encourage, develop and value creative writing by veterans, ex-combatants, currently serving personnel and their families. Siobhan is now based in Washington DC, working with US veterans.
Paddy Scully
is a founding member of Belfast Theatre Company and an award-winning actor and director. In extracts from his acclaimed one-man show 'Lord Carson Signs Off' he depicts Carson in the London studio of the Belfast-born painter Sir John Lavery, waiting to sit for his portrait. The show provides a valuable insight into the life and times of one of the most controversial Irishman before, during and after the life and turmoil of changing events of 1912. Edward Carson's was the first signature on the Ulster Covenant and it would have profound effects on the life of the island of Ireland, especially in the Province of Ulster.

"'Lord Carson Signs Off' is engaging, amusing and moving. A confection of bloody-mindedness, badinage and Barbara Cartland puts some real flesh on the bones of this most misunderstood of Irishmen. Paddy Scully brings to bear in some of Carson's quieter moments here, a sadness at his own lot, an almost unwilling agent of history, driven as much by what he couldn't stand, Irish Home Rule, as what he could".
Joe Nawaz, www.culturenorthernireland.org
Mary Kenny
is a Dubliner who grew up in Sandymount. For over four decades she has been a journalist, broadcaster, author and public speaker. She has written for more than 30 newspapers and magazines in London and Dublin and has developed in recent years a special interest in the relationship between Ireland and Britain. The theme was explored in her biography of William Joyce, Lord Haw-Haw' 'Germany Calling' and in her play about the private meeting between Winston Churchill and Michael Collins in 1921 'Allegiance', as well as in 'Crown and Shamrock: Love and Hate between Ireland and the British Monarchy', which was used as background information for Queen Elizabeth's historic visit to Ireland in May 2011. She is a frequent columnist for the Irish Independent and The Irish Catholic. She was a founding member of the Irish Women's Liberation Movement and was Women's Editor of The Irish Press in the early 1970s. In 1997 she published 'Goodbye to Catholic Ireland', a cultural and personal narrative discussing how women in the 20th Century played a significant role in constructing contemporary Catholic Ireland.
Concert at
Fivemiletown Wesleyan Hall 8pm
Murley Silver Band and Monaghan Gospel Choir:
Special Guest Gloria Admission FREE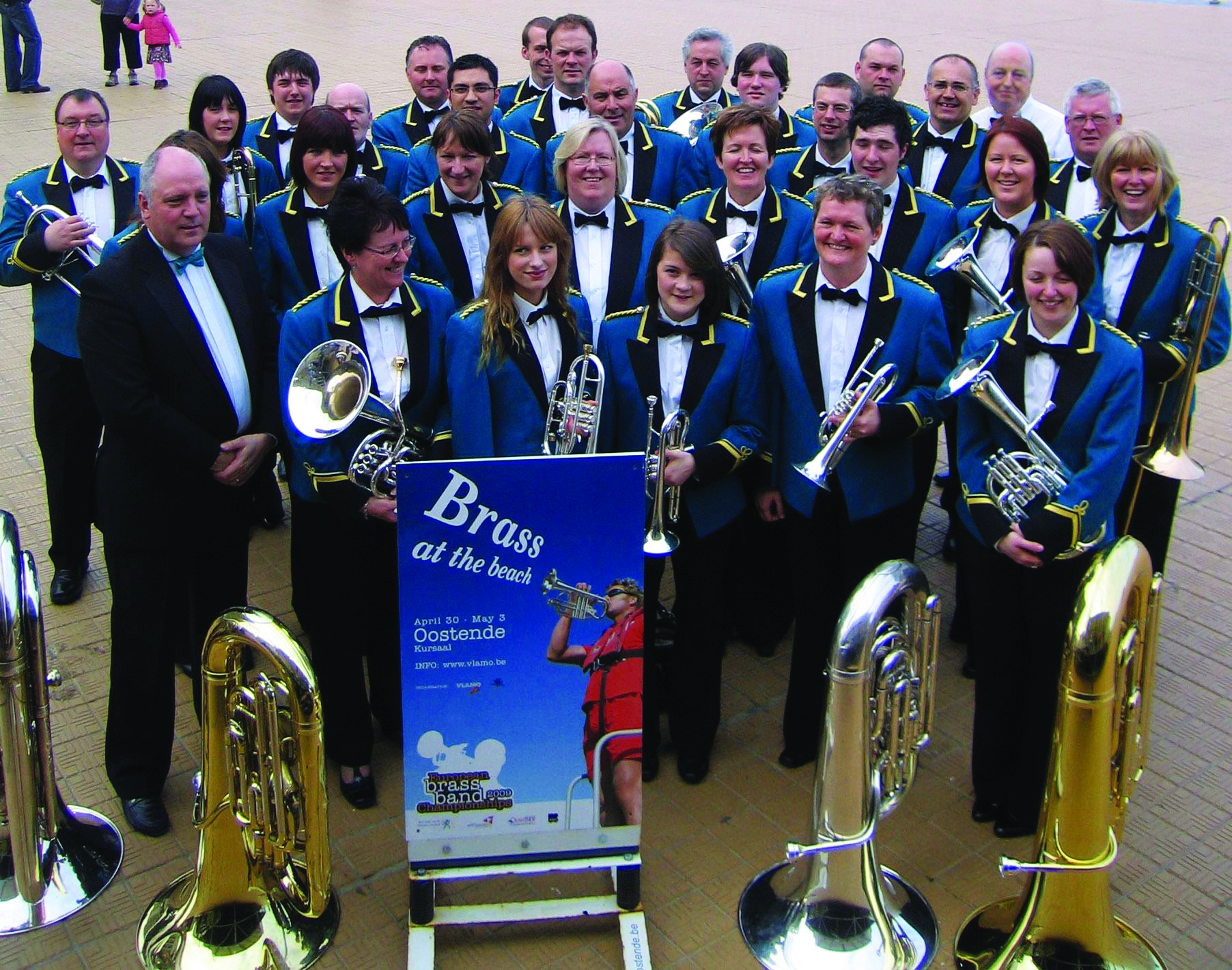 Murley Silver Band was formed in 1924 and took its name from the local district of Murley, near Fivemiletown. The band is sill located in Fivemiletown, in the heart of the Clogher Valley. The late Gordon Bloomfield conducted the band from 1960 until the appointment of a local school head teacher, Jack Taylor, in 1962.
However, it is fair to say that the meteoric rise of the Murley band through the sections can be pinned on one man – the late Harry Gault . Harry (who also founded the magnificent Strabane Concert Brass) was the conductor of Murley for 24 years, until his untimely death on April 12th 1997 at a brass band contest. Murley's finest hour came in October 2007, after winning the Northern Ireland Brass Band Championship playing Coventry Variations by Bramwell Tovey. This achievement, under the Baton of Keith Anderson meant that the Band qualified for and subsequently participated in the European Championships in Stavanger, Norway in May 2008. In June 2008, Murley appointed William Hill as their new musical director and subsequently completed a historic double by winning the NIBA Championship for two years running.
Monaghan Gospel Choir


The concert features Monaghan Gospel Choir under their musical director David Drum with music star Gloria Sherry from Tydavnet.
Monaghan Gospel Choir Monaghan Gospel Choir, which was founded in 2007 by Mr. David Drum has a membership of 80 people male/female which are divided into three sections, 40 Adults, 10 Junior Leaders, 30 Juniors and represent all parts of County Monaghan. They age from the youngest member of 7yrs to 70 plus. The members also enjoy the social side of the choir, interacting with one another and looking out in support for one another either with choir or personal issues. Monaghan Gospel Choir has been publicly described as one "BIG" happy family.
Monaghan Gospel Choir picked up the Northern Sound 94-98 FM Arts & Entertainment Award 2010.
Gloria
was born in Monaghan and made her name as a singer in the 1970s. She found her greatest success with her version of the famous gospel song 'One Day at a Time', which reached No. 1 in the Irish charts and went on to become the longest running in the charts in its history, staying there for 90 weeks. Earlier this year she re-recorded it with the Monaghan Gospel Choir.
Evening Events:
(supported by Shared History, Shared Future Project funded by South West Peace III partnership)